All of our bucks and does are G6S normal, so all kids are G6S normal. Our milker prices are $350-$450 each. Let me know if you are interested in a milker in 2020, you can put down a deposit to get your choice of milkers that are for sale as they are picked. We may not have any more milkers for sale in 2020.
On March 25th 4*M R R Resources Fudgy Haupia gave us a set of Quads, one was a doeling. This doeling is sired by Klondike and she is an american nubian. Haupia has a beautiful, tight udder. She is milking 9+ pounds a day at 2 weeks fresh. This doeling is a bit on the smaller side, but she is very correct and should be a nice milker and should hold her own in the showring with a judge who does not mind her being a bit smaller. We kept her daughter of this breeding from 2019 and she won her jr grand and best jr doe in show! She is $400 on the bottle or $425 weaned.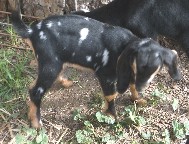 Here is Pepper Mint Patty at a few days old. The picture is not very good...hoping to get better ones soon! PENDING SALE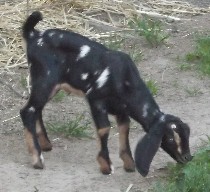 Here she is at two weeks old, still have not been able to get a nice picture of her.
We are done kidding for 2020. So this will be all the doelings available in 2020. We will begin kidding again in March of 2021!