On April 6 Classy gave us a set of triplets, 2 buck and 1 doe, all are beautifully spotted! They are sired by Shiraz and they are americans. Classy is milking 12 pounds at less than two weeks fresh! Her udder is justbeautiful too! I have high hopes she will get that finaly grand she needs to be a permanant grand champion this year! One of the bucklings is for sale for $400 on the bottle or $425 weaned.
Here is Classic Legend at one week old
Here's his right side at a week old
Here's Legend's face. I think the coloring on his ears is very unique!
Legend at 6 weeks old.
On April 13 Jackie gave us two beautiful bucklings! These are american nubians and they are sired by Klondike. Jackie is really giving us lots of milk...at 4 days fresh she is already over 3/4 of a gallon a day! UPDATE! At 16 days fresh she milked TEN pounds a day! 1 1/4 gallon a day! Pretty good for a 1st freshener! I think she is going to be a heavy milker like her dam! Awesome teat placement and a beautiful udder! She already won her junior grand...I can see more grands in her future! These bucklings are priced at $250 on the bottle or $275 weaned. Don't miss this opportunity as her kids will be MUCH higher priced next year.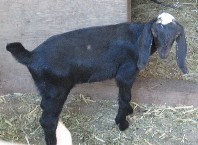 Here is "Classic Lava Rock" at a month old. he has white on his head and throat and one small brown spot on her left side...the rest is solid black! We call him Rocky
Here is "Lil' Sparks of Class", or as we call him, Sparky! He is one month old in this picture.
---
All of our bucks and does are G6S normal, so all kids are G6S normal. This may be the last of our bucklings for the year....